Properties
SIGN UP
Enter your name and email address to receive Gunpoint newsletters
La Gitana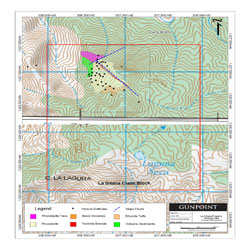 Click here to enlarge La Gitana Geology Map
Gunpoint Exploration Ltd. obtained 100% ownership of the La Gitana mineral concessions (494.2 hectares) located in the eastern part of Oaxaca State on November 29, 2010 as part of the Talapoosa transaction with Chesapeake Gold Corp. The property is a low-sulphidation epithermal system, structurally controlled by northwest trending faults and hosted in rhyodacitic rocks and volcaniclastic sediments. Two primary sub-parallel structures control the mineralization, Cerro Di Oro, a quartz breccias-vein and stockwork system with electrum (gold and silver) and acanthite (silver sulphide) within quartz and La Gitana, a vein system with narrow silver-gold ore shoots and base metal sulphides.
The La Gitana Project was initially explored by British and Mexican artisan miners around 1813, with the work concentrated in silver bearing narrow veins of the Gitana structure. The property remained relatively dormant until the 1980's and 1990's when individual prospectors and mining companies began staking and preliminary exploration work.
In August 2003, Chesapeake Gold Corp began regional reconnaissance work in the La Gitana district looking for previous metal targets outside of the known veins and occurrences. In 2004, Chesapeake Gold Corp acquired two concessions that cover the La Gitana project from a private individual and Luismin S.A. de C.V., a Mexican subsidiary of Goldcorp Inc. Subsequent work by Chesapeake Gold Corp consisted of geological mapping, channel sampling, IP-Resistivity geophysics and core drilling on the La Gitana project that continued until May 2006. A 40-hole diamond drill program totalling 8,642 metres was completed in 2006, with all but two holes testing the Cerro Di Oro structure. Drill results indicated significant mineralization 500 metres in length, 50 to 150 metres wide and 50-300 metres deep with the average grade being 0.71 g/t gold and 27 g/t silver. Since 2006, Chesapeake Gold Corp has worked on updating their database of information.
Gunpoint Exploration Ltd. views the La Gitana property as a prospective low-sulphidation epithermal system with resource potential.