Properties
SIGN UP
Enter your name and email address to receive Gunpoint newsletters
La Cecilia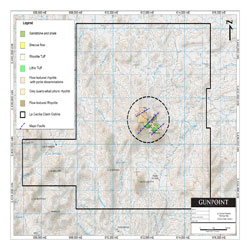 Click here to enlarge La Cecilia Geology Map
Gunpoint Exploration Ltd. obtained 100% ownership of the La Cecilia mineral concessions (800 hectares) located in northern Sonora State on November 29, 2010 as part of the Talapoosa transaction with Chesapeake Gold Corp. The property is a low-sulphidation epithermal gold-silver system related to two northwest and northeast developed fracture zones that are associated with Cerro Magallenes, a rhyolite flow dome complex.
Initial exploration began during the late 1980's when the Consejo de Recursos Minerales de Mexico (CRM, the mining and geological research division of the Mexican government), completed a surface mapping, sampling and 4-hole diamond drill program on the southeastern portion of the La Cecilia concession. Rock chip samples on high grade shoots returned values from 22 g/t to 53 g/t gold and 204 g/t to 1128 g/t silver. Of the drill holes, two holes returned intercepts with values of 0.7 g/t gold and 15 g/t silver over 100 metres. One hole, Barreno-3, returned an intercept of 180 metres of 1.2 g/t gold and 20 g/t silver from the surface down.
From 1995-1997, Cambior Inc. optioned the La Cecilia project and conducted an exploration program that included mapping, surface sampling, road building and 19 diamond drill holes. Several long intercepts of gold and silver mineralization were intersected during the program. Cambior terminated its interest in La Cecilia when its exploration activities in Mexico closed down.
Since obtaining the property in 2004, Chesapeake Gold Corp has expanded the rock geochemical survey to include areas proximal to the dome complex, conducted a soil geochemical survey over the property and completed 3 lines of IP.
Gunpoint Exploration Ltd. considers the La Cecilia project to have considerable upside with untested broad zones of silicified breccias and a mineralized fracture system that appears to continue to the northeast and northwest under a thin cover of debris from the dome complex.